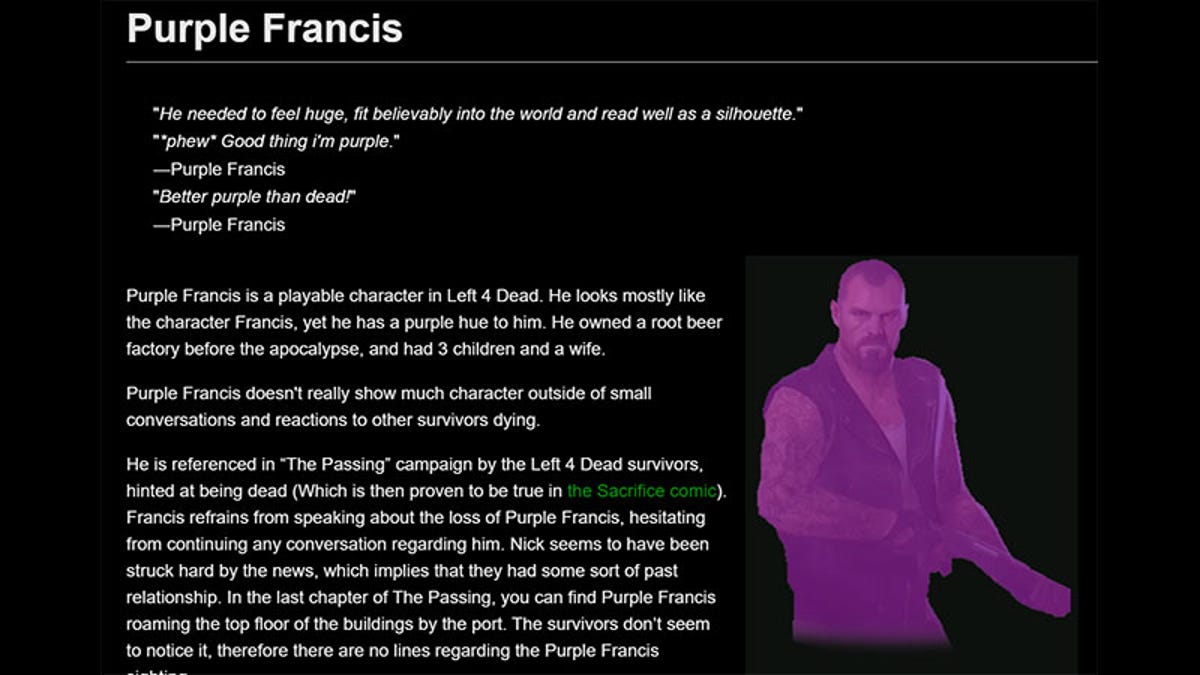 Ahh Left 4 Dead, such a wonderful game that is considered a classic by many. I particularly love the characters that we all got to play and love suhc as Francis, Zoey, Bill, Louis and of course Purple Francis… what do you mean he doesn't exist?
Yes a fun bit of pranking took place recently on the wiki site for the Left 4 Dead games as Twitter users "Lucy" and "Unknowntrope" recently claimed that they were indeed the digital vandals of the pages, although I must say they did incredibly well. They created an entirely new character for the games, Purple Francis, who is the twin brother of one of the original survivors but with a purple hue, how creative. They apparently used to have a wife and children and they even used to own a root beer factory with survivors even referencing the sad news of his passing. The wiki changes were so extensive that they even referenced him in multiple different parts of the site in connecting articles just to make it appear more legit, I love the dedication.
Sadly Purple Francis is now gone from the site after moderators cleaned everything up but the newest addition to the roster has certainly gained a bit of a cult following and even has a mod dedicated to adding him into Left 4 Dead 2, incredible. The internet can be a cruel and unforgiving place but seeing light-hearted and silly moments like this within the gaming community helps to make things just a bit less serious and a whole lot more fun.
That's all for now, and as always. It's not just a game, It's a Life.